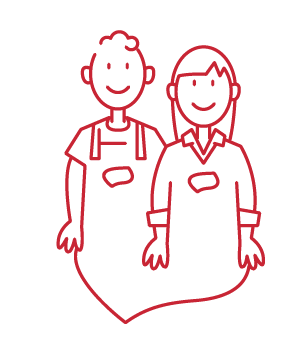 Our recruitment policy is designed to attract a diversified and talented group of people who, just like us, have TOP values at heart. Details about our diversity policy, are accessible here.
We are committed to long-term employment and offer our employees a pleasant, challenging, inspiring and safe working environment.
We also make sure that our employees feel good and flourish at Lotus Bakeries. How? Via training, development and constant challenge. This way, the acquired know-how stays in the company sustainably.
Consult the policies & reports relating to our Employees pillar.
CONTRIBUTION TO THE SDGS
Within our Employees pillar, we focus on 3 Sustainable Development Goals issues by the United Nations:
 

Status 2020

1 The group of the Executive Committee, the General Managers and the Corporate Directors.
Parameters
| Gender diversity | Unit | 2020 | 2019 | 2018 |
| --- | --- | --- | --- | --- |
| Board of Directors | % | 70 M | 30 F | 70 M | 30 F | 70 M | 30 F |
| Leadership team | % | 58 M | 42 F | 60 M | 40 F | 68 M | 32 F |
| Management | % | 60 M | 40 F | 60 M | 40 F | 60 M | 40 F |
| All employees | % | 48 M | 52 F | 47 M | 53 F | 48 M | 52 F |
| Geographic distribution | Unit1 | 2020 | 2019 | 2018 |
| Belgium | # | 1,073 | 1,063 | 978 |
| South Africa | # | 314 | 289 | - |
| Netherlands | # | 258 | 233 | 229 |
| United Kingdom | # | 152 | 154 | 148 |
| France | # | 140 | 140 | 123 |
| United States | # | 97 | 71 | 29 |
| China | # | 29 | 24 | 16 |
| Sweden | # | 22 | 21 | 22 |
| South Korea | # | 21 | 21 | 21 |
| Other (AT, CH, CZ, DE, ES, IT) | # | 49 | 40 | 38 |
| Safety in the workplace | Unit | 2020 | 2019 | 2018 |
| Total occupational accidents involving absence from work  | # | 62 | 45 | 47 |
| Total occupational accidents per 100 FTE | # | 2.8 | 2.5 | 3.0 |
1 Employees as at 31/12/2020
FIVE YOUNG TALENTS JOIN LOTUS BAKERIES UNDER THE YOUNG GRADUATE PROGRAMME
As explained by Stéphanie De Lange, Group HR Director
"By this programme, we ensure a permanent inflow of promising young blood."