Mission, vision & strategy
OUR MISSION
Our mission is to create small moments of joy and happiness. We do that by offering a versatile range of branded snacks with superior taste experience. To every consumer. For every occasion. In every country.
OUR VISION
Lotus Bakeries wishes to base its sustainable profitable growth on offering a versatile range of branded snacks of superior taste for every consumption occasion, while maximising opportunities for generations to come.
With this mission and vision in mind, Lotus Bakeries has defined a clear strategy focused on building brands. This strategy is based on three pillars.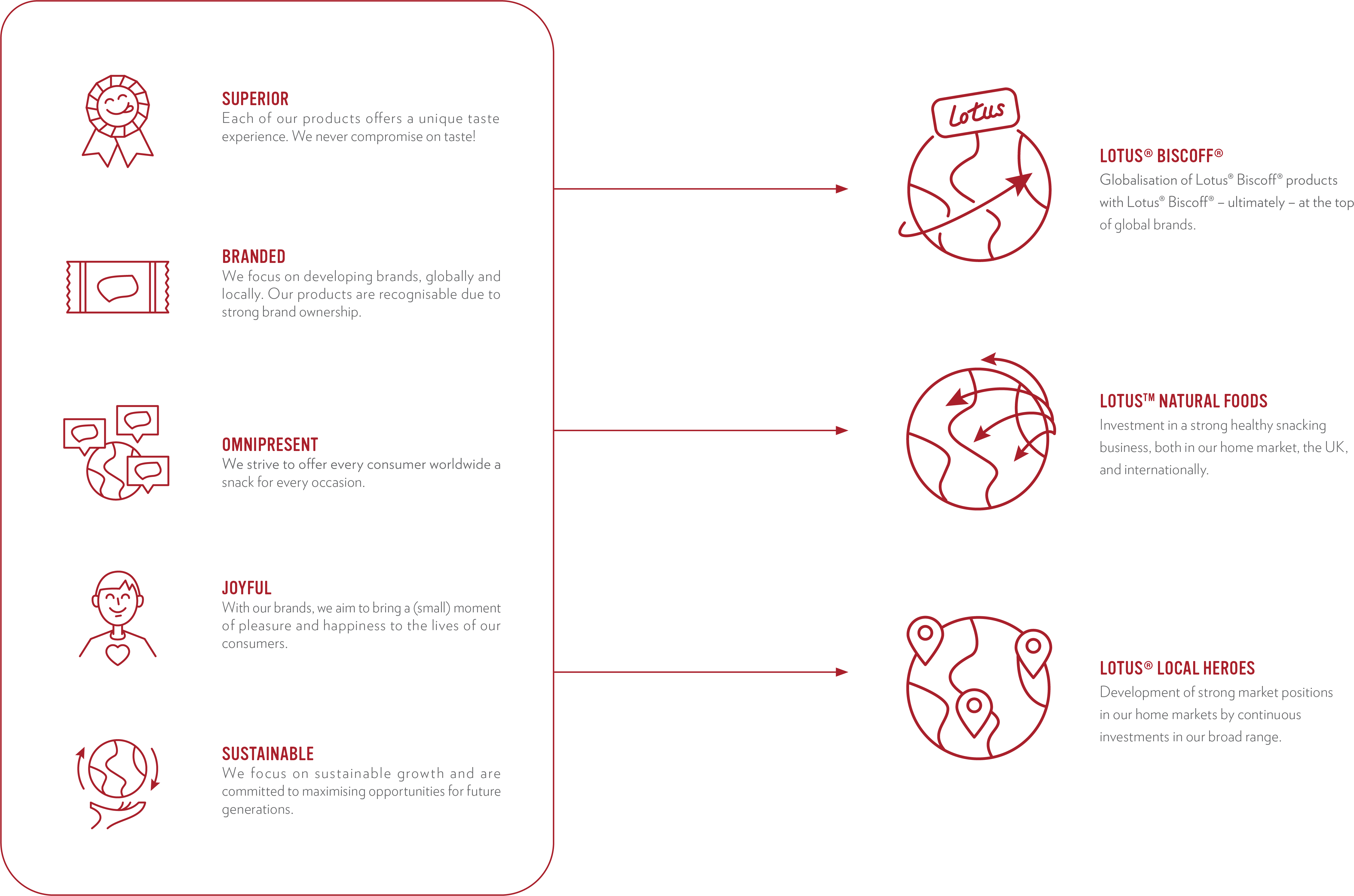 Lotus® Biscoff®
Globalisation of Lotus® Biscoff® products with Lotus® Biscoff® - ultimately - at the top of global brands
The first pillar focuses on the globalisation of Lotus' original caramelised cookie taste, marketed under the Lotus® Biscoff® brand. Lotus® Biscoff® enjoys success across national borders and cultural differences – a quite exceptional situation in the food sector. Lotus® Biscoff® is now enjoyed in about seventy countries.
To support the further internationalisation of Lotus® Biscoff®, Lotus Bakeries operates in fifteen countries with its own sales offices and its own sales teams. Cooperation also takes place with local commercial partners in some fifty countries. 
Lotus™ Natural Foods
Investment in a strong healthy snacking business, both in our home market, the United Kingdom, and internationally, from the Lotus™ Natural foods International HQ in Switzerland
The internationalisation of our Natural Foods brands nākd, BEAR, TREK, Kiddylicious and Peter's yard forms the second pillar of our strategy. Since 2015, Lotus Bakeries has invested in the natural and healthy snacking category with a focus on the strong brands of nākd, BEAR, TREK and Kiddylicious. In May 2020, Lotus Bakeries acquired almost all of the remaining shares in British company Natural Balance Foods from the founders. As a result, Lotus Bakeries now has full control of the entire Natural Foods portfolio. Lotus Bakeries acquired in 2022 100% of the shares of Peter's Yard.
Our aim is to create constant growth in the home market for these brands, the United Kingdom. The geographical expansion of our Lotus™ Natural Foods brands outside
the United Kingdom is another major growth area. 
Lotus® Local Heroes
Development of strong market position in our home markets by continuous investments in our broad range
We are present in Belgium, the Netherlands, France and Sweden with a wide range of local 'hero' products: biscuits, waffles, cakes and gingerbread. We want to develop these already strong market positions by investing continuously in this wide range. That way, Lotus Bakeries strengthens its position as market leader in the relevant subsegments.