We're committed to the environment and to help fight global warming.
In everything we do, we aim to reduce our ecological footprint:
We commit to only use recyclable packaging for all of our brands by 2025.
We already produce in a CO2-neutral way in our 12 factories.
We involve our employees in our drive to cut emissions.
Find the sustainability policies relating to our Environment pillar here.
Contribution to the SDGs
Within our Environment pillar, we focus on 5 Sustainable Development Goals issues by the United Nations:

2021 Status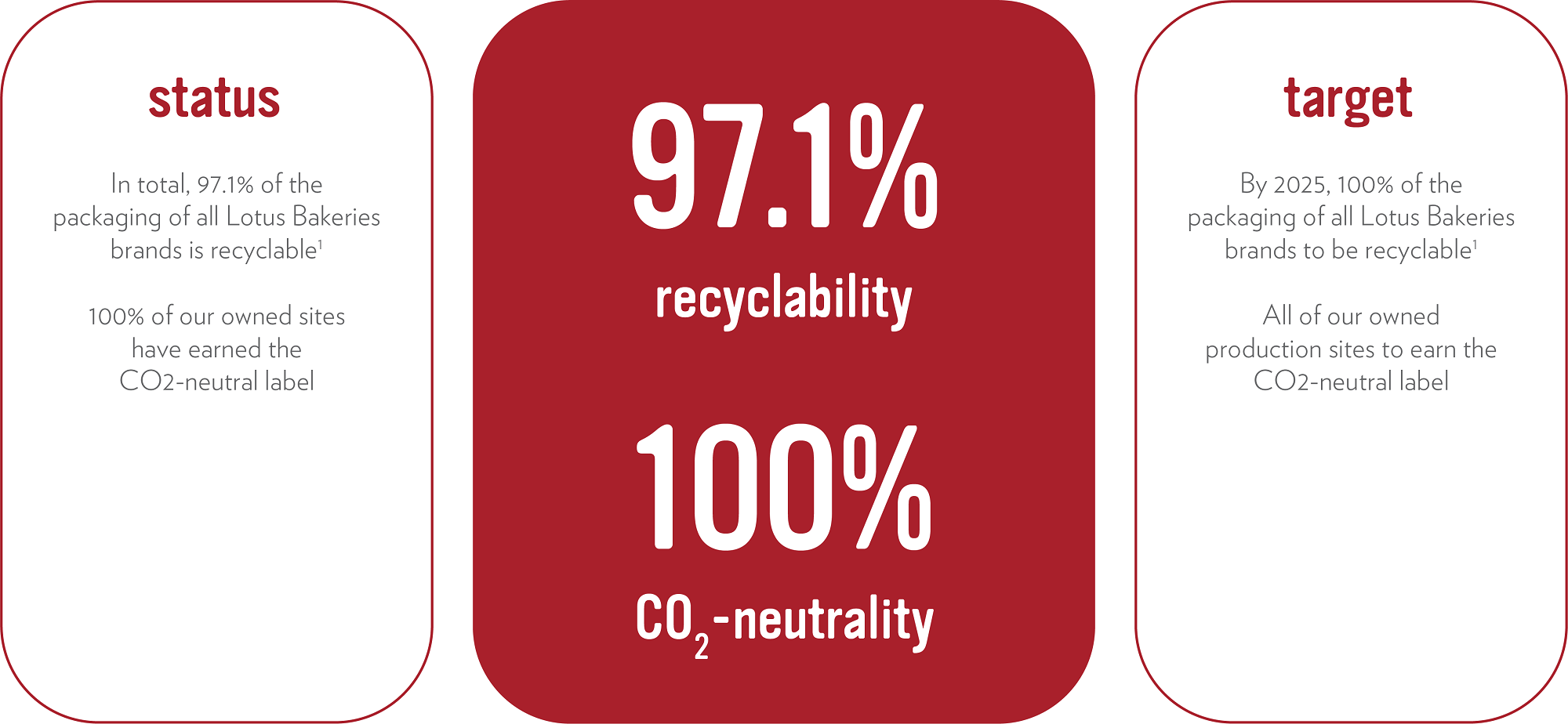 PARAMETERS
| Priorities | Unit | 2021 | 2020 | 2019 |
| --- | --- | --- | --- | --- |
| % of packaging of all Lotus Bakeries brands that is recyclable1 | % | 97.1 | 96.8 | 93.9 |
| % of our owned sites that have earned the CO2-neutral label  | % | 100 | 100 | 100 |
| Packaging | Unit | 2021 | 2020 | 2019 |
| Reduction of plastic | tonnes/year | 21.6 | 18.5 | - |
| Use of recycled cardboard | % | 75 | 77 | - |
| Use of cardboard with the 'sustainable managed forest' guarantee | % | 76 | 77 | - |
| CO2 equivalent emissions | Unit | 2021 | 2020 | 2019 |
| Output of scope 1 & 2 CO2 equivalent emissions per tonne produced on our owned sites | kgCO2e/tonne | 163 | 1452 | 133 |
| Output of scope 1 & 2 CO2 equivalent emissions per tonne produced on our owned sites, excluding own transport   | kgCO2e/tonne | 156 | 1392 | 126 |
| Energy Consumption | Unit | 2021 | 2020 | 2019 |
| Energy consumption per tonne | kWh/tonne | 1064 | 10712 | 923 |
| Waste | Unit | 2021 | 2020 | 2019 |
| Kg of waste per tonne generated3 | Kg/tonne | 634 | 54 | 45 |
1 The recyclability rate is the average technical recyclability of the packaging of all Lotus Bakeries brands by the end of 2021. It takes into account consumer packaging, distribution packaging and transport packaging. The technical recyclability rate is determined per packaging component on the basis of state-of-the-art design guidelines for recyclability (Ceflex, Recyclass). The average technical recyclability is a weight average, based on the packaging weight of each packaging component. packaging component.
2 Following an analysis within the CSR project, the calculation of the external consultant was refined. The additional CO2e emissions were compensated with additional certificates so that 100% CO2 neutrality was maintained.
3This concerns residual waste, production waste, grease, paper, cardboard at our proprietary premises.
4The figure is negatively impacted by significant capacity expansions and associated normal start-up inefficiencies
Powerful strides towards a more sustainable packaging policy
As explained by Laetitia Vlaminck, Sustainable Packaging Engineer
"With a 'recycle me' logo on each recyclable packaging item, we encourage consumers to sort their waste correctly. So our efforts bring results."
Young Graduates help drive Lotus Bakeries' sustainability ambition
As explained by Marie Tanghe, Sofie Lambert, Elisa Vandekerckhove, Edward Boone, Flore Vanden Bussche - Young Graduates