Why packaging matters
Guarantee of superior taste
Packaging has a clear goal: to protect the product, whether on its journey to the retailer, on the shop shelf, in the consumer's pantry, right up to the moment of consumption. To do this and ensure superior taste experience, we have to pack our product, creating a barrier against outside influences and keeping the fresh and unique taste inside.
Longer shelf life, less waste
High-quality packaging ensures that Lotus Bakeries products have a longer shelf life, which helps to prevent food waste. Estimates show that 1/3 of all food produced — some 1.3 billion tonnes  annually — gets thrown away. For the most part at the point of sale and with the consumer. Bringing our products to the distribution and the consumers is thus not possible without packaging. 
Invest in closing the loop
At the same time, Lotus Bakeries recognizes the issues related to the use of packaging, such as ocean pollution, carbon emission, and the use of non-renewable resources. Lotus Bakeries wants to step up and contribute in driving the transition from the current linear economy, where packaging is produced, used and disposed towards a circular alternative, where materials are kept in the loop. That's why we have defined a packaging strategy that focusses on reducing packaging, innovative design, and investing in circularity.


Reduce what we use
The ideal packaging? As little as necessary to keep our products fresh and tasty!
We therefore continuously invest in optimizing our packaging, aimed at using as little packaging materials as possible while safeguarding a superior taste experience for our consumer and minimizing food waste. It's a careful balance between using as little material as possible for the environment, and using enough material to fully protect our products.
as part of this process:
We reduced the weight of the plastic around the 250g Lotus Biscoff cookie by 11%. This comes down to a substantial amount of plastic that's eliminated on a yearly basis.
What's more, we reduced the thickness of the shrink foil for our Biscoff spread by 10%. This shrink foil is a plastic foil wrapped around the jars during transport to ensure a safe transfer to the stores.
We make sure that cardboard packaging for transport is as light as possible, without losing stability.
For most of our Biscoff cookies, we only use plastic flexible packaging wrappers. This type of packaging is light and strong and acts as an excellent barrier to preserve the quality and freshness of our products. What's more, the use of plastic flexible packaging means a lower energy demand both for production and transport compared to other packaging materials.
We strive to offer consumers an ideal pack format for each occasion. A Biscoff family pack of 250g, for example, is more suited for a large household, while a twin pack format preserves freshness while on the go. Out of the different format options, consumers ultimately decide on those that suit their needs. This way, we serve not only the consumer but also the environment. In fact, research shows that it's sometimes better to use a little bit more packaging and, in doing so, reduce a large amount of food waste.  

Design for tomorrow
The recyclability of packaging starts with its design!
We continuously explore sustainable and innovative packaging materials to increase the recyclability of our products and facilitate recycling processes. We also use objective eco-design guidelines to make our packaging recyclable.
Our commitment
We strive to design 100% of our packaging to be recyclable by 2025. For all of our brands. And we are working hard to do it even sooner.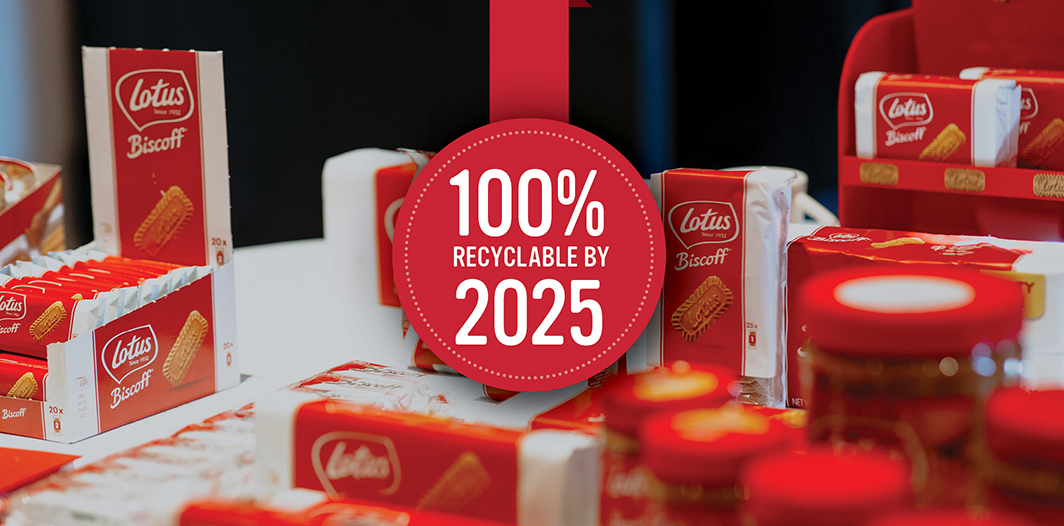 As part of this commitment:
We strive to use mono-material for all our packaging, which beats the use of multi-material in terms of recyclability. The major part of the packaging film we use is already mono-material and we are currently in discussion with our packaging partners and suppliers to further eliminate multi-material from our packaging range.
Starting from January 2021, we will no longer use individually wrapped and twin Biscoff packs containing PVdC; a plastic coating that is often used to increase the moisture barrier of packaging materials. PVdC gets burned during the recycling process, making the recyclate inferior. But up to recently, it was an essential component for creating a good barrier. After two years of intensive research and a lot of testing in collaboration with suppliers, we have managed to come up with a suitable alternative.
For our small ice cream cups, we will be switching from Polystyrene - a plastic that is not recycled - to cardboard in 2021.

Aim for circularity
Sustainability is a journey. One step, one action at a time!
As we design for recyclability, we believe it is also vital to move towards a circular economy and are committed to invest in closing the loop. It is our intention to further investigate how responsible sourcing, recycled content, consumer awareness, sorting guidance, innovative solutions, etc. can contribute to reaching this goal.
as part of this ambition:
In 2020 we replaced the plastic trays of our Lotus pastry and waffle assortments by cardboard trays. We carefully assessed the overall sustainability of this new solution and continue to look into other opportunities.
The paper used for our transport packaging is FSC-certified (it comes from forests managed in a responsible manner).
Our cardboard packaging for transport is now made of 90% recycled materials on average. We are aiming for the currently achievable technical maximum.
We are an active working group member of CEFLEX: a collaborative of companies representing the entire value chain, striving to establish a circular economy of flexible packaging in Europe by 2025.
We are a member of the Sustainable Packaging Coalition, which is a US-based collaborative that brings together packaging stakeholders to facilitate improvements to the sustainability of packaging systems.
Our sustainable packaging roadmap
Our strategy to move towards a circular economy is an ongoing process and will continue to evolve. While some of our products already have recyclable packaging, we are intensively researching and testing to bring about further change across our product portfolio.
As a driving force behind the implementation of this strategy, Lotus Bakeries has put together a packaging team that is exclusively tasked with searching for improvements in this field. The members of the team report to the COO and work closely with internal stakeholders, suppliers and research centres. Moreover, they also keep close track of legislative developments.
Our stories
Read on about Lotus Bakeries' sustainable packaging approach, as told by COO Ignace Heyman.