A safe and healthy way of working is an ongoing concern for Lotus Bakeries. We heavily invest in providing safe machinery, detailed procedures and thorough trainings for our employees. Transforming a 'Can do' attitude into 'Will do' is a team effort from and for all of our employees. This is the only way in which we can create a safety culture where zero accidents is an achievable goal. 
focus on involvement
Central to this approach is being able to always address one another about safe working methods, both individually and in group. Via personal and team activities we broach safety themes and make sure everyone is involved.
VAM
One good example of this is the VAM (Veiligheids Actie Moment/Safety Action Moment) process in Lembeke, in which a new safety topic is spotlighted every six weeks. Everyone gets involved with the topic via personal videos, flyers, posters and, above all, many discussions. All of which helps our employees to learn the safety reflex.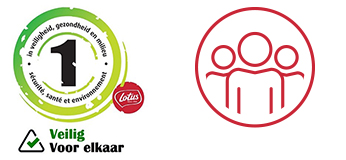 It started with a small project and a motivated team, and it further evolved from there on. We learn from each other, learn from incidents that occur, but above all celebrate our victories too. Only by doing this, we achieve our goals in a safe way!
Team lead Packing Lembeke